Frequently Asked Questions About Teacher Certification
Q: Is ACT Dallas/Austin an ACP?
A: Yes, ACT Dallas/Austin is a private Alternative Certification Program (ACP), accredited by the Texas Education Agency State Board for Educator Certification (SBEC). It was founded on March 3, 2003 and operates on a clock-hour system. We serve both geographic areas of the state.
IMPORTANT NOTE:  Other programs may use ACT in their name.  There is only one ACT program -- ACT Houston-at Dallas, better known as ACT Dallas with a satellite ACT Austin location.
A program called ACT Houston is no longer open.  It is now closed.
A: An Alternative Certification Program is an Educational Preparation Program (EPP) that provides an alternate route to earning a Standard Certificate. Alternative Certification began in Texas in 1986.. Today there are about 150 alternative certification programs in Texas. Most states have followed Texas' lead and now offer alternative certification.
A: No, no, no! There are a wide variety of programs: university-based, school district sponsored, distance learning, online, etc. We encourage you to visit the Texas Education Agency website at www.tea.texas.gov  and view the accredited programs in Dallas and Austin. Then select the one that best fits your schedule and needs. The ACT Dallas/Austin program is unique because we focus on building a relationship with you, providing you with the highest quality preparation, and personally working with you during your preparation for entering the classroom and throughout your teaching internship or practicum.
Note: Other programs may be named ACT, but they are not part of and have no association with ACT Dallas and ACT Austin.
Q: What type of preparation does ACT Dallas/Austin provide for learning how to teach?
A: The Preparation Program Institute provides research-based instruction that is designed to help you develop skills and learn strategies that are essential for making a smooth transition into teaching. You will be amazed at how much you can learn in these accelerated, face-to-face classes, rather than studying alone online!
Institute sessions are taught by master, certified teachers. Class sizes are small. Instruction time is dedicated to helping you learn exactly what you need to know and be able to do in order to be effective with students.
The Institute Fee includes all books and materials, as well as test resources, the $35 technology fee, and workshops provided by the program.
The ACT Dallas office is near Love Field. Austin's campus is in central Austin.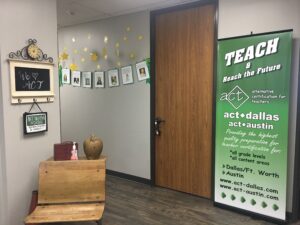 Q: What are the skills that educators are required to possess?
A: These skills can be found in the 19 Texas Administrative Code, Chapter 149 Commissioner's Rules Concerning Educator Standards, Subchapter AA Teacher Standards 149.1001
Std. 1 Instructional Planning & Delivery
Teachers demonstrate their understanding of instructional planning and delivery by providing standards-based, data-driven, differentiated instruction that engages students, makes appropriate use of technology, and makes learning relevant for today's learners.
Std. 2 Knowledge of Students and Student Learning
Teachers work to ensure high levels of learning, social-emotional development, and achievement outcomes for all students, taking into consideration each student's educational and developmental backgrounds and focusing on each student's needs.
Std. 3 Content Knowledge and Expertise
Teachers exhibit a comprehensive understanding of their content, discipline, and related pedagogy as demonstrated through the quality of the design and execution of lesson plans and their ability to match objectives and activities to relevant state standards.
Std. 4 Learning Environment
Teachers interact with students in respectful ways at all times, maintaining a physically and emotionally safe, supportive learning environment that is characterized by efficient and effective routines, clear expectations for student behavior, and organization that maximizes student learning.
Std. 5 Data-Driven Practice
Teachers use formal and informal methods to assess student growth aligned to instructional goals and course objectives and regularly review and analyze multiple sources of data to measure student progress and adjust instructional strategies and content delivery as needed.
Std. 6 Professional Practices & Responsibilities
Teachers consistently hold themselves to a high standards for individual development, pursue leadership opportunities, collaborate with other educational professionals, communicate regularly with stakeholders, maintain professional relationships, comply with all campus and school district policies, and conduct themselves ethically and
with integrity.
Q: I am still in college, but already know that I want to become a teacher. I can't wait! How soon can I start?
A: You can actually be admitted on a contingency basis during your final semester at the university, pending receipt of an official transcript showing degree conferred, provided that you are currently enrolled in and expect to complete the courses and other requirements for obtaining your Bachelor's Degree at the end of the semester, have been deemed eligible for our program, and have passed the TExES Content Test.
NOTE:  Passing the TExES Content Test has been waived by Governor Abbott for 2020-21.  You can not enroll without passing the test!
Q: I am eager to begin teaching! What are the things that I must complete in order to be hired?
A: Good news!  You are no longer required to pass a content test for your desired grade level and subject area prior to enrolling.
Just contact us and submit your completed Application Form and university transcripts.  We will visit with you and help you decide what you would like to teach.  Then you can be enrolled and begin the requirements to become certified. Important requirements are:
1. Participation in our Preparation Program Institute to equip you with skills and strategies for making a successful transition into the teaching profession.
2. Completion of 30 hours of Field-Based Experience. This is your opportunity to observe teachers in their classrooms.
Q: What about classroom management skills? Why is it so important to build strong classroom management skills?
A: Classroom management refers to all of the things that a teacher does to organize students, space, time, and materials, so that instruction in content and student learning can take place. According to Harry Wong, renown educator, author, and proponent of classroom management, "The most important factor governing student learning is Classroom Management."
This has also been stated strongly by Robert J. Marzano (EDUCATIONAL LEADERSHIP, Sept. 2003, V. 61, pp 6-13), who says " Today, we know more about teaching than we ever have before. Research has shown us that teachers' actions in their classrooms have twice the impact on student achievement as do school policies regarding curriculum, assessment, staff collegiality, and community involvement. We also know that one of the classroom teacher's most important jobs is managing the classroom effectively.
Of all the variables, classroom management has the largest effect on student achievement. This makes intuitive sense-students cannot learn in a chaotic, poorly managed classroom. It is very important that there is a balance between teacher actions that provide clear consequences for unacceptable behavior and teacher actions that recognize and reward acceptable behavior. For example, beginning the school year with a positive emphasis on management; arranging the room in a way conducive to effective management; and identifying and implementing rules and operating procedures.
Research has shown that the quality of teacher-student relationships is the keystone for all other aspects of classroom management. Further, research has shown that "teachers who had high-quality relationships with their students had fewer discipline problems and rule violations than those who did not have high-quality relationships."
Since you aspire to become a teacher, you certainly want your students to learn and be successful. So during the Preparation Program Institute and throughout the program, much time and emphasis will be placed on learning research-based strategies to develop strong classroom management skills that you will implement from Day 1 in the classroom.
Q: My role as a Texas classroom teacher is to provide high expectations for students. What exactly are these high expectations?
A: The state curriculum standards are the Texas Essential Knowledge and Skills (TEKS). These specify what students at each grade level and content area are expected to know and be able to do. Student assessment of these curriculum standards is through the State of Texas Assessments of Academic Readiness (STAAR) program
performance standards.
Q: Am I required to have a teaching job to start the Preparation Program Institute, especially the Fall one?
A: No. The Institute is designed to be a pre-service preparation experience prior to your teaching internship or practicum. In the Institute you will learn how to teach.  We will introduces you to research-based instructional strategies and equip you with the skills that you will need for successfully stepping into the classroom.
Q: Once hired, what responsibilities will I be required to accept?
A: In our profession, teachers must accept an awesome array of responsibilities that are outlined in the Educator Standards.
Pedagogy & Professional Responsibilities Standard I
The teacher designs instruction appropriate for all students that reflects an understanding of relevant content and is based on continuous and
appropriate assessment.
Pedagogy & Professional Responsibilities Standard II
The teacher creates a classroom environment of respect and rapport that fosters a positive climate for learning, equity, and excellence.
Pedagogy & Professional Responsibilities Standard III
The teacher promotes student learning by providing responsive instruction that makes use of effective communication techniques, instructional strategies that actively engage students in the learning process and timely, high-quality feedback.
Pedagogy & professional Responsibilities Standard IV
The teacher fulfills professional roles and responsibilities and adheres to legal and ethical requirements of the profession.
Technology Applications Standard I
All teachers use technology-related terms, concepts, data input strategies and ethical practices to make informed decisions about current technologies and their applications.
Technology Applications Standard II
All teachers identify task requirements, apply search strategies and use current technology to efficiently acquire, analyze and evaluate a variety of
electronic information.
Technology Applications Standard III
All teachers use task-appropriate tools to synthesize knowledge, create and modify solutions and evaluate results in a way that supports the work of individuals and groups in problem-solving situations.
Technology Applications Standard IV
All teachers communicate information in different formats and for diverse audiences.
Technology Applications Standard V
All teachers know how to plan, organize, deliver and evaluate instruction for all students that incorporates the effective use of current technology for teaching and integrating the Technology Applications Texas Essential Knowledge and Skills )TEKS) into the curriculum.
Q: As a Texas classroom teacher, how will my performance be evaluated?
A: Teachers are currently evaluated by their campus administrator using the T-TESS (Teacher Evaluation and Support System) that focuses on providing continuous, timely, and formative feedback to educators so they can improve their practice.
Q: Does ACT Dallas/Austin place me in a school or help me get a teaching position?
A: Our program does not place you in a school, unless you are a Clinical Teacher. For those seeking full-time teaching positions, we provide guidance in determining a certification area for you that offers the best opportunity for being hired. The program does not limit where you can apply to teach. We work with all public school districts, charter schools, and accredited private schools in the Dallas/Ft. Worth and Austin areas and beyond.
We encourage you to apply to all schools and school districts in which you are interested. However, just as in all other professions, securing your first position can be quite challenging. Plus the supply and demand change with the state's economy. The TEA website has info on supply. The market for elementary teachers is very competitive. Other certification areas such as bilingual education, special education, secondary science & math, and LOTE (Languages Other than English) are considered to be high need areas for teachers.
Q: What if I do not secure a teaching position or am nervous about starting out as a full-time teacher?
A: The ACT Dallas/Austin program understands the challenge of being hired as a beginning teacher. Although there may be a shortage of teachers in certain content areas, it is still very competitive to secure a position. In anticipation of this, our program was approved in 2010 to offer another route for teacher certification: Clinical Teaching. Clinical Teaching is the same as Student Teaching. Those interested in clinical teaching must complete the same pre-service requirements, plus additional field-based experience, in order to be selected for Clinical Teaching.
Once selected, we secure a placement for you in the classroom of a Cooperating Teacher for a 14-week practicum at no pay. During your clinical teaching practicum, you will transition from observer into the role of teacher under the guidance of the Cooperating Teacher, while our program provides ongoing full support, including a Field Supervisor. All of this is done to ensure that you can be recommended for a Standard Certificate at the end of the 14-week Practicum. The fee for Clinical Teaching is similar to the Internship Fee, but must be paid prior to the start of the practicum.
Q: In a nutshell, what will I have to do to complete the ACT Dallas/Austin program and become a certified teacher?
A: The ACT accelerated approach basically requires the following:
Step 1 – Contact us and provide your completed Application Form.  We will review it and evaluate your university transcript(s) to determine the subject area and grade level you wish to teach.
Step 2 - Preparation Program Institute & 30 Hours of Field-based Experience, plus passing the TExES Content Test(s) for your subject and grade level.

Reminder: EC-6 & 4-8 Core Subjects, 4-8 ELA, & 4-8 ELA/SS also require passing the STR (Science of Teaching Reading TExES #293). Some content areas also require passing the ESL (English as a Second Language TExES #154).

Step 3 – Two-semester Teaching Internship (full-salaried)
OR
14-week Clinical Teaching Practicum (no pay)
Q: Is there any difference in the teacher certificate that I will receive from participating in the ACT program in Dallas or Austin, and what I would receive from a university College of Education program?
A: Absolutely no difference! All beginning teachers must have an initial certificate for their first year of teaching, no matter how they are earning their certification. Interns all have an Intern or Probationary Certificate for their two-semester internship. Clinical Teachers are not required to have an initial certificate, since they are not employed by the school district. At the end of the 2-semester internship or 14-week clinical teaching practicum, beginning teachers should be eligible for a Standard Certificate. That is our goal at ACT Dallas/Austin—to help you reach your goal of becoming a certified teacher!
NOTE: First year teachers will have either an Intern Certificate (if they have passed the TExES Content Test) OR a Probationary Certificate (if they have passed both the TExES Content & PPR Tests).
Q: What can you tell me about the ACT Dallas/Austin program's performance
over time?
A: Since the program's inception in 2003, we have received the rating of ACCREDITED by the Texas Education Agency each and every year.
Q: In the unlikely event that I should have a complaint about this program or any person associated with the program, the certification/testing requirements, etc., what should I do?
A: We love to hear and receive your kind words and compliments about our program! This means the world to us, for we are dedicated, passionate, career educators, striving to do our utmost to provide you with the highest quality preparation for our profession. However, if you should have a complaint, in accordance with TAC Chapter §228.70 Complaints and Investigations (b) (4), here is the process for addressing it.
Step 1 No matter what the nature of the complaint (program, testing, TEA, etc.), Step 1 is to contact the Program Director Dr. Bobette Dunn.
Telephone: When contacted by phone, the Program Director will hear your complaint and, if needed, provide instructions for submitting the complaint in writing.
Email: When contacted by email, the Program Director will reply to notify you that she will call you to hear the complaint and, if needed, provide instructions for submitting the complaint in writing.
REMINDER: Start with Step 1. We are here to serve you and help you reach your goal of becoming a certified teacher!